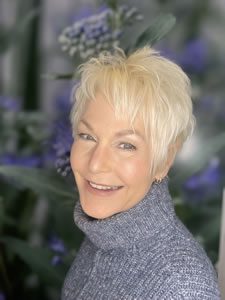 Mardell has over 20 years of experience as an alternative practitioner with health care related to cleansing. She has operated the Colonic Center since 2004.
"Colonic enemas are a detoxification opportunity for people seeking alternatives to laxatives and creating better bowel movement. Colon cleansing may be the most important step you take to establishing and maintaining optimum health." –Mardell,  certified i-ACT Colon Hydrotherapist.
Mardell's Story
From early in life, Mardell was exposed to medicine through her family upbringing. At 18, she left Washington State University to pursue a career in Inhalation Therapy. Although intrigued by the science of medicine it soon became apparent that traditional, western medicine was not her path.
Mardell has a unique balance between artistic and technical talents and she moved into working as a hair and makeup artist. Until 30, Mardell excelled in hair design, color, and makeup. Eventually the chemicals, combined with toxic exposures from childhood, began affecting her health.
The next 4 years were spent at the gym, in an attempt to feel better. Time was spent alternating hair design with studying and teaching fitness. Fitness allowed Mardell to combine the technical with artistic again and she excelled in postural rebalancing. Eventually, this passion developed credentials and work as a post rehab instructor. Her fitness career lasted over a decade until her body and health could not withstand the intensity of training all day long.
How did this lead to colon hydrotherapy? At 37, Mardell was feeling very ill, had been throwing up daily for 10 months, and sleeping every spare minute of the day. With a biopsy, the doctors diagnosed advanced liver disease saying it was the beginning stages of liver cancer. There was no treatment available.
The miracle began! A close friend brought over a book on parasites and an enema bag. He said, "Start cleansing". The regimen began with a parasite cleanse of herbs and colonics twice a week for 1 year. The doctors tracked progress with blood tests combined with strong words of caution and skepticism. It took 1 year for all tests to resume 'normal' range. The doctors said it was an "attitude". Personally, Mardell thought it was the parasites, pesticides, solvents, and toxins that came out of her body. Watching this all come out was enough to understand that serious DIS-EASE was present!
Additionally, Mardell combined nutritional changes, liver flushes, alcohol abstinence, meditation, balanced thought process, and a regular, consistent schedule to continue her journey for sustainable, preventative well-being.
At 40, Mardell gave birth to a healthy boy (against doctor's recommendation). Mardell continues with colonics and cleansing on a regular basis. Her continued success blended with a background in anatomy, physiology, kinesiology, injury recovery and prevention, created a natural transition to helping others on their healing journey. At 47, she opened Boulder Colonic Center. Every day, Mardell finds joy and fulfillment helping people cleanse their body so it can heal itself.
Mardell's artistic side is expressed as a photographer. Many of her photos grace the walls of the Boulder Colonic Center.