Intestinal Health – A Practical Guide to Complete Abdominal Comfort
Intestinal Health is a breakthrough book designed for people affected by digestive issues from diverticulitis to leaky gut, from GERD to chronic gas, constipation, and other ailments. It will improve the lives of anyone who wants to maximize their digestion, increase good bacteria, decrease symptoms of discomfort, and heighten cellular oxygen levels resulting in complete abdominal comfort.
Following Mardell Hill's simple formula, anyone can reduce their digestive disorder or pain symptoms by identifying their unique path to self-recovery. While some may seek medical care, others may try an alternative route; still others try to self-medicate, and yet many still suffer even after various treatments. Today people want effective, safe, and natural solutions for digestive health and care. Here, then, is a practical, easy-to-use guide that walks readers through the various issues they may confront, how to prevent them, and how to get relief should symptoms crop up.
Hill responds to some of the most commonly asked questions about preventing, or stopping, abdominal pain and discomfort. In clear and simple language, she helps readers better understand how digestion works, from top to bottom, and explores the many different difficulties that can arise along this path. Offering sound and proven advice, she helps readers feel better and live better.
---
Intestinal Health at Amazon (Ebook/Paperback/Hardback)
Buy Now
---
ISBN-13: 9781442243163 •  Publisher: Rowman & Littlefield Publishers, Inc. •  Publication date: 5/16/2015 (available May 16th) • Pages: 252
---
Mardell's Book – Intestinal Health – A Practical Guide to Complete Abdominal Comfort in the News!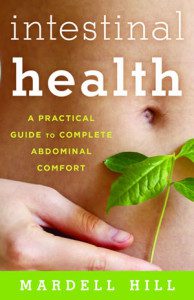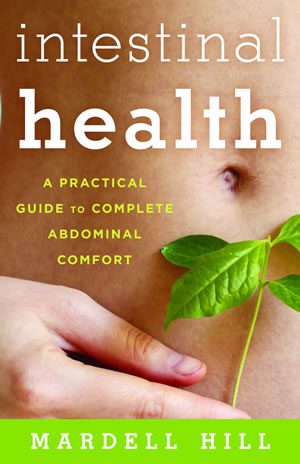 Acid reflux, gastroenteritis, a sluggish metabolism and Crohn's disease are all common enough maladies in today's fast-paced culture, where we often eat in our cars or in front of our TV sets and have very little time for cooking and enjoying whole foods, let alone thoroughly chewing them.
Our lifestyles, as well as the way food is grown and sourced, have impacted our bodies' ability to digest food. But what can be done about it?
Fortunately, there are numbers of options according to local author and healthcare practitioner Mardell Hill. The founder of the Colonic Center in Niwot, Hill offers clients tools for maintaining a healthy digestive system to help improve their comfort and overall wellness. Hill's book, Intestinal Health: A Practical Guide to Complete Abdominal Comfort, addresses issues related to digestion, nutrition and cleansing and are taken from Hill's 10 years' experience as a colon therapist."
– See more at: Left Hand Valley Courier
---
Features
• Covers a wide range of common ailments, complaints, and illnesses • Offers a holistic approach • Addresses common questions that may not have been thought about, but should be known • Includes preventive measures, as well as treatment approaches.
---
Sample Pages
Sample Pages from Intestinal Health – A Practical Guide to Complete Abdominal Comfort
---
Table of Contents
Dedication
Acknowledgments
Introduction
Part I
Chapter 1: Digestion Basics
Chapter 2: The Mouth
Chapter 3: The Esophagus
Chapter 4: The Stomach
Chapter 5: The Duodenum
Chapter 5A: The Liver
Chapter 5B: The Gallbladder
Chapter 5C: The Pancreas
Chapter 6: The Small Intestines
Chapter 7: The Large Intestines
Part II: Nutrition
Part III: Cleansing
Closing
Bibliography
Notes
Index
---
About the Author
Mardell Hill is an i-ACT Certified Colon Therapist. She trained as a colonic therapist and has built a successful cleansing business since 2005, combining a long standing history in athletic training, post-rehabilitation, nutrition and functional fitness training into helping clients achieve optimum health. In her center, she runs colonics , teaches health through nutrition as it pertains to intestinal rebuilding, and offers support for additional cleanses such as, liver, gallbladder, kidneys, and skin. She has successfully treated more than 3,000 clients. She encourages people to blend alternative and standardized medicine to complement, support, and maximize their health as a whole. The local papers have published articles on colon therapy and featured Mardell in Boulder County Kids, Spring 2010 and Times-Call, January 2008.
---
More about the Author – Mardell Hill has dedicated her life to helping others. Read more about her story and her vision.
---
Praise for Intestinal Health – A Practical Guide to Complete Abdominal Comfort
What impresses me most about this book is its simplicity. It's written on a lay person's level. It provides a practical education on how every organ in the digestive tract actually works and how each is injured, weakened, and eventually destroyed through the improper feeding and care that is inherent in our modern ways of living. Mardell illustrates very well how to use nutrition and colonic irrigations to restore intestinal health, and by so doing, how to restore overall health and wellbeing. I found the many "Analogies" to provide simple ways to get a handle on complex subjects. Mardell does an excellent job of answering the most common and important questions that almost all people need answered. She conveys a useful understanding of the enormity of the power we all have to either destroy or benefit our own health through our ways of eating, digestion, and elimination. For almost anyone embarking on the process of improving their digestive health, this simple book provides essential practical education and inspiration. Well done, Mardell.
Charley Cropley, N.D., Boulder, CO
---
I have seen Mardell for several years now and I attribute my continued digestive well-being to all of her years of experience, know-how, and skill—which comes through resoundingly in this book!
Wolf Becker, N.D., L.Ac, Chautauqua Health, Boulder, CO
---
Mardell is a perfect example of someone who walks the talk! She is an amazing, knowledgeable, healthy person who can assist others in achieving her wellness, through this extremely informative book.
Diana Alba ND, CHom, CNC, CT, RM, Denver, CO
---
This book is an important aid to assist our aging population and young people to step up and learn about their digestive system, which is where good health begins. I'm an RN working in disease case management and there are thousands of folks who honestly do not understand the basics. This book is clear, direct, and to the point. The pictures and facts are FANTASTIC and share CRUCIAL information that the American public needs to know because they are not getting it from their doctors.
Charrise Upshaw, RN, BSN, Denver, CO
---
This book is an excellent simplified version of how the digestive system works. We all have choices to make when it comes to our health; who would want anything less than to be healthy and happy? Thanks Mardell.
Lori Gordy, RN, BSN, Lafayette, CO
---
Mardell Hill has accomplished a formidable task! She has created an easy-to-read, super user-friendly book and superb educational resource on a very complex yet vital health issue. This book 'flows.' It is organized in such a way that each subject builds effortlessly on the previous one, you can find the information you want on any subject in split seconds—no 'shuffling' through half the book to fish out what you need here—and the illustrations and images drive the message home at a glance!
Theodosia Southern, President/CEO, Center for Executive Leadership, Boulder, CO
---
This made a huge impact on my overall energy and feeling of well being. I have been a touring musician for over 25 years and have been through the gamut when it comes to poor & unusual diet, stressful travel & sleep patterns, and to put it simply, have put my body through quite a lot over the years. Once I started trying to find healthier ways of living my life and wanting to know more about my body, I ran across Mardell's work back in the early 2000's. Her perspective and approach made such sense to me that I began working with her on rejuvenating my organs, mainly my liver and colon. This made a huge impact on my overall energy and feeling of well being. So when her book came out, I grabbed it right up and now use it as a reference for not only myself, but for questions about digestion health from my wife and children. I highly recommend this book and highly recommend checking out her work more directly.
Ty Burhoe, Boulder, CO
---
Very Informative! Although I had a general understanding about the digestive tract, Intestinal Health book gave me a much clearer vision of what happens after I eat and drink. It is not only fascinating, but the knowledge and application, combined with the cleansing principles have made dramatic improvements in my digestion, skin complexion and muscle tension, and anxiety relief. I feel years younger!
Aaron Edward Stockton, Boulder, CO
---
I really liked this book. It makes learning about digestion so easy for anyone to understand. I use it in my health coaching practice in case I need to explain something to my clients properly! Very handy. I would highly recommend it.
Christine Avellino, Boulder, CO
---
Very informative and easy, straight forward book with recipes that are easy to make and foods that are readily available anywhere! You don't have to be a expert to start your journey to digestive health. Mardell guides you though simple changes that has already improved my problem with gas using practical processes. I am committed now to her diet suggestion and colonic therapy. Since I have started I am no longer having gas pain and embarrassing incidents! Thank you Mardell Hill!
Kelly C, Boulder, CO
---
Great book for natural intestinal health! Has a lot of great insight ranging from supplements, foods to eat, recipes and other digestive insights like Candida. Mardell is incredibly knowledgeable and doesn't require any strict diets like other doctors may to get the results needed. Any questions or issues you may have related to digestive help can all be found in this book!
Cassie Strid, Denver, CO
---
With 42 years of vegetarian diet and lifestyle 'under my belt,' I thought I knew a decent amount about good health habits and common sense. Mardell's wealth of information, presented in her guide on Intestinal Health, opened my eyes immensely.
Jim Dallke, www.empower-water.com
---
Finally a book with answers to all of my digestive questions. My copy will be fully highlighted and dog-eared – thanks, Mardell!
Lynne Lemire, MSW, Boulder, CO
---
Intestinal Health" provides answers about our digestive system. I appreciate the organization of the book. It starts with an overview and each chapter addresses a specific question. It is written in an easy understandable conversational manner. The information answers questions I want answered. Having this aid to keep my digestive system healthy with help me be healthier and happier.
The book includes a glossary and index that makes it very useful. I am looking forward to having my very own copy. After reading it carefully to glean information, this is a book that will be added to my reference shelf for fast information when it is needed to keep my digestive system health. It will be like having Mardell in my home.
Marie Datus, Retired Librarian, Cheyenne, WY
---
I feel this book is an excellent guide for nurses and nursing students. It clearly demonstrates how integral intestinal health is to total wellbeing. The analogies are useful for patient education. Put it on your gift giving shipping list. It belongs in everyone's library.
Joni Clemens, RN, MSN
---
This book is a practical, straightforward resource for digestion & good health. Mardell is clearly committed to promoting good health choices & her positivity coupled with basic anatomy makes this an easy to understand resource. It is a source of education, encouragement & motivation for both health care workers & the general public.
Melissa, medical assistant, patient educator & health care consultant, Denver, CO
---
Working with Mardell has been a true blessing.  I feel the best I have felt in over 2 years!    She not only was a wealth of direct experiential knowledge but is highly intuitive and will guide you safely and skillfully to better health!  Her book captures everything I have learned and experienced. She is a rare gem in a world of professionals!
Jonah Jensen, RYT, RPP, LMT,Flagstaff, Arizona
---
Mardell helped me save my gallbladder and rejuvenate my liver.  Her vast knowledge and commitment to intestinal health shines through in her book.  I find myself returning to the book on a regular basis to reference an abundance of information such as: recipes, diet, gallbladder and liver information, and all the support for my long-term journey towards intestinal health – I feel great!
Nan Kenney, MA, LPC, Boulder, Colorado
---
I really did not fully understand the necessity of having a partnership with my own digestion (i.e. chewing) until I read this book.  This book is an extremely 'user friendly' reference book, and I finally feel empowered with the knowledge and support to maintain excellent digestive health.
J. Frazin, LCSW, Boulder, Colorado
---
I have suffered with rheumatoid arthritis for 30 years and have pursued many health remedies over the years. Some have helped, but I finally realized I needed to do internal cleansing.
There are two observations about this book: (1) It covers every element of the digestive system, what they do and how they all work together. (2) It is communicated in a very practical way to the "lay" person. People just need good, clear basic information they can easily read to be well informed (such as my 20 year olds, who have various health problems, and are NOT going to do a lot of research, but are willing to read a book that is not extremely detailed, but very clear and informative).Definitely a great resource!
Even though I have done much research over the years, this brought it all together to me in a very understandable way.
Cora Brown, a 60 year old homemaker
---
I love reading your book, "Intestinal Health", I have been using it as my go to resource for any questions I have or am asked about cleansing and Intestinal Health. I love your analogies, suggestions and humor! I am hooked!
Liz Mandel, Realtor, Boulder, Colorado
---
I read this book quickly in one day and thought it was a great, informative and an easy read. It was hard to put down! I highly recommend it for anyone looking to increase their knowledge about gut- health or anyone looking to learn more about their health in general.
Melanie R., athletic & swim instructor, Boulder, Colorado
---
I just finished reading your book and I want to tell you what a great job you did. The material you covered is very basic and yet is presented in a clear and concise way. I do not remember having information presented in such a complete manner in my college nutrition classes.
I feel that this book with help many people. Those who are having problems with their alimentary track can find answers in the book which may solve those problems. Others can find advice about how to change their diets to improve the digestive process as food passes through their intestines. All in all, this is a great book! Thank you so much for writing it!
Eleanor Sutcliff, BS Nutrition, retired medical supply CEO, Seattle, Washington
---
Intestinal Health" is an incredible resource for anyone interested in learning how their digestive system really works. The descriptions in the book are clear and easy to understand.  The illustrations are ideal for learning visually. And, the nutrition advice is practical and relevant.  Thank you for writing such a well-organized and thought-out book, Mardell!
Ellen Teig, MSPH, MNT, Boulder, Colorado
---
We hear from practitioners how important it is to have a healthy digestive system, but hardly anyone explains why or what to do about it. Mardell's book, "Intestinal Health", gives a wonderful, clear explanation of the whole digestive system, it's function and role it plays in our overall health and healing. She has written it with a layman's understanding using pictures and humor and giving suggestions on how to put ourselves back on track to perfect health. I would recommend this book to anyone, whether you think you have intestinal issues or not.
Felicia Santelli, L.Ac., Ph.D., Holistic Health Practitioner, Niwot, Colorado
---
This book demonstrates a message that is both sincere and instructive in bowel and intestinal care and of personal overall health. It conveys the expression of the concepts correctly and is a great beginner's book for the health of one's colon.
Jim Wright, Historical painter, Hygiene, Colorado
---
I have been visiting Mardell for years to help cleanse and detoxify my body, and she has provided invaluable support on my personal journey of detoxification, wellness, and health.  Now she has put her wealth of knowledge into one straightforward and accessible resource!  If you want to learn how to create and maintain a healthy digestive system, this book is a must-read!
David Englander, Design Principal, Tao Design Build, Founder and CEO, Pura Vida Raw Foods, Nosara, Costa Rica
---
I have spent most of my life studying and learning about natural health. I have been to several naturally oriented MDs, Naturopaths, and Healers. I have gained a lot of knowledge and experience about digestive health. I appreciate the directness and simplicity of this book. I spent over seven years working in a vitamin department of a local health food store. I spoke to hundreds of customers about digestive issues and how to support their bodies with healthy diet and supplements. My favorite part of the book is the checklist. I think it is a great tool for seeing where someone is on their diet choices. Many customers thought they were eating healthy, but had room for improvement. A visual chart to work with daily is a perfect solution. It serves as a reminder to me to stay focused on fresh organic foods and stays simple. I already have this knowledge but get busy in my work week and sometimes miss the mark.
There are two other sections of the book that support my healthy lifestyle as well. I got a great reminder to be more vigilant about my exposure to bacteria and the negative impact on my health. I experienced the negative impact of contaminated flood waters on my colon health recently. Receiving colonics had a positive impact on my recovery.
Lastly, I learned something new about the impact of enemas on colon health. I did not know that they can negatively affect the way the colon muscle works. In my experience many people I talked to in the health food store had colons that did not work efficiently. Most natural health care providers and books recommend enemas on a regular basis. I understand the benefit for me personally of not overdoing enemas and taking colonics as part of my digestive health regimen.
Thank you Mardell for you dedication to digestive health for me, your patients and the readers of your book. I am clearer now how an imbalanced digestive system is a central issue for many of my health issues.
Catherine Munk , BS in Psychology, Reiki Master, Bookstore Administrator, Dacono, Colorado
---
Intestinal Health by Mardell Hill is full of tips on how to keep yourself healthy from the inside out. Chocked full of detailed graphics that illustrate key points, Mardell has given the reader a road map to intestinal health that discusses all aspects of the digestive process. I loved the recipes included in the book and also the question and answer format in various sections. I highly recommend this easy-to-read guide to abdominal health and overall wellness. Thanks for sharing your knowledge, Mardell!
Beth Huesing, Senior Technical Writer, MS, University of CO-Boulder, Boulder, CO
---
There is so much wisdom in this book. By showing how the body works from the mouth to stomach to excretion, Mardell takes the mystery out of digestion by offering insights into the process. Most books about diet and nutrition will tell you what to eat, but Mardell shows you how to get your body working in harmony for optimum long-term health. It is a solid guide for anyone wanting to improve their well-being.
On a personal level, "Intestinal Health" has helped me become more mindful about what I eat and how I eat it. Happiness and health go hand-inhand, and these techniques have helped me improve both.
Nikita Coulumbe, author, Oahu, Hawaii
---
I can't say enough good things about this book.  I read the entire book in one sitting.  It was so interesting and informative that I couldn't put it down.  The book describes the entire "Digestion Highway" in simple terms and has great analogies that make it even easier to comprehend.   It states the best way to eat to make digestion more efficient.  It also provides a very detailed explanation of how food gets digested and what happens through the entire digestive system.  I found the smart food practices, like picking up perishables at the end of the shopping trip and tips on washing raw veggies very helpful.  There are fantastic recipes in the book and I'm looking forward to making the Cabbage Salad and "Mardell Bark".  Mardell even included her own meal plans.  There is an intestinal health checklist that gives great examples of the best food options to choose.  I tend to experience constipation when traveling so I am going to follow Mardell's travel tips when I go on my next trip.
I had extreme digestion issues so I followed Mardell's suggestion on doing a whole body detox with supporting colonics and diet change and after two weeks I felt better than I had in years.  I am currently following the 3-step plan and this is definitely the start of a lifestyle change.  I now know how important a healthy digestive system is to my overall well being.  I will be suggesting this book to all of my family and friends as it's a great resource to prevent problems as well as offer suggestions for those that have existing digestive issues.
Melissa Myers, I.T. assistant, Lafayette, Colorado
---
Mardell's  book;   "Intestinal Health"  is the best book I have ever read about the inner workings of the digestive system and how what we eat can keep our intestines and digestion healthy.   Mardell has had years of practice and training as a colonic hydrotherapist and her knowledge shines in this book.    It is a must read for anyone who wants to know more about their bodies. There are also wonderful recipes in the book.
Fran Repass , mother, artist, real estate, Boulder, Colorado
---
If you were ever wondering ANYTHING literally anything about your digestion, constipation, feeling gassy or just plain miserable after eating;  Mardell's book is a must read…even if you think you know your body!  As a frequent traveler and a woman who has taken nutrition and anatomy courses (post college) I learned a tremendous amount, and have become an avid client receiving colonic treatments at least two times a month. Owning your own wellness is key, but having a "coach/mentor/friend" to help is invaluable; Mardell is that person.  But ultimate it is your own journey. My outlook on my health and my eating habits have changed, while I think they were pretty good (you will be able to see in the worst to best nutrition/health table). I am very conscious of what I eat and what my family eats and how we eat – slow down and CHEW. Get the book, read it cover to cover, and then buy one for a friend. Don't give your copy away – you'll only have to buy yourself another and re-highlight it.
Hats off to Mardell for the easy read and the changes she has inspired in me!
Joy Fitzgerald, director of marketing – high tech, BS business Admin, Berthoud, CO